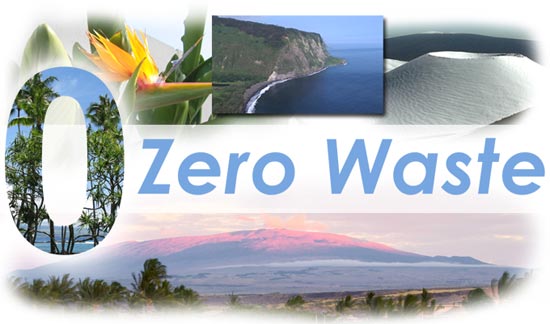 "Zero Waste" is a way of life that promotes the goal of reducing the amount of material we throw away.  One way to achieve that goal is to re-imagine resource management whereby instead of disposing of "waste" we reincorporate the by-products of one system to be used by another system, and the by-products of the next system is used by another and so on in a virtuous loop. There is no such thing as "waste" in Nature. In nature, the by-product of one system is feedstock for another system. Only humans have created this thing called "waste." Ancient Hawaiian culture lived this sustainable way before the term "Zero Waste" came to be. We can live this way again through small shifts in our daily activities. In this way, we greatly reduce our impact on Hawai'i Island's natural environment, and how much rubbish we generate, protect Hawai'i Island's natural environment, preserve our resources for future generations, and save our community tax dollars.
In 2007, the Hawai'i County Council joined hundreds of states, counties, cities, nationwide municipalities, and countries passing legislation adopting the mission to reduce our county's ecological footprint. With the right strategy and appropriate education, we can all begin to see valuable resources in our waste and divert those resources from the landfill to the right place for recovery. In February 2009, the County received the Draft Zero Waste Implementation Plan and held public meetings on the plan to get public input.  It was finalized in March 2009.  Zero Waste Implementation Plan and presentation links are at the bottom of the page.
Both non-organic and organic materials can be recycled or reconstituted into new products, extending our resources useful life cycle. Non-organic materials that can't be used anymore are recycled into new products. Organic materials are processed to produce mulch or compost for agricultural purposes.
It doesn't require a lot of effort, just a little bit of creativity and some awareness. Zero Waste is worth it. It safeguards our future, saves money and protects the environment.
Here are some things you can do to reach our Zero Waste goal:
Eliminate the things you don't really need by minimizing consumption of goods.
Avoid single-use disposables, e.g. polystyrene foam cups and containers, plastic bags, plastic utensils.
Buy products that can be reused or recycled.  Be creative! How can you re-incorporate that item back into another useful life cycle in your life?  Reuse plastic container for homemade planters; remake an old t-shirt into a reusable bag.  Look up other projects online.
Avoid buying items that are made of or packaged in non-recyclable or difficult to recycle materials, for example expanded polystyrene (EPS, sometimes known as Styrofoam®).  Instead purchase items made with recycled-content materials and close the loop.
Ask your favorite take-out restaurant to use biodegradable containers and utensils. Take them home and compost them.
Products and packaging can be redesigned to use less materials, last longer and not create pollution. Hawai'i residents can choose to buy these products. This will encourage producers to offer products with less overall packaging and use more recyclable and recycled-content materials.
Try LED lights or TVs, they are lighter/smaller, durable and use less electricity than those old fluorescent/incandescent bulbs and CRT or LCD TVs.
Use rechargeable batteries instead of single-use batteries.
When you go to a store take reusable shopping bags.
Buy products in bulk or with less packaging.
Recycle used materials.
Take your green waste to be made into mulch.
Compost food scraps for use in a garden. Go to our Greenwaste page for Backyard Composting ideas.
Zero Waste Resources
Zero Waste USA
www.zerowasteusa.org
Eco-Cycle Inc.
www.ecocycle.org
Zero Waste International Alliance
www.zwia.org
Zero Waste – California
https://www.calrecycle.ca.gov/zerowaste/
Zero Waste America
www.zerowasteamerica.org
Sierra Club Zero Waste
www.sierraclub.org/committees/zerowaste
USA ZERO WASTE COMMUNITIES
California:
Del Norte County
San Luis Obispo County
Santa Cruz County
City of Oakland(including separate adoption of ZW as a goal by 3 of the 4 cities; City of Santa Cruz scheduled for January 2006)
San Francisco City and County
Berkeley
Burbank (informally)
Palo Alto
San Bernardino County Zero Waste Communities (informally)
San Diego County (Citizens Advisory Committee only, scheduled for January 2006)
San Luis Obispo County
Sonoma County (Local Task Force, citizens committee only)
State of California, Integrated Waste Management Board
Marin County, CA Joint Powers Authority
Fairfax
Novato
Fresno
El Cajon
Culver City (In Sustainable Community Plan)
Ocean Beach (neighborhood Council of City of San Diego)
Rancho Cucamonga
San Jose
Apple Valley
Other USA:
Boulder County, CO
City of Boulder, CO
Carrboro, NC
Central Vermont Waste Management District
New York City(Citizens ZW Plan developed, but not adopted by City)
Seattle, WA
Summit County, CO
Matanuska-Susitna Borough, AK
Logan County, OH
International Zero Waste Communities
Canada
Halifax, Nova Scotia
City of Nelson, BC
Regional District Kootenay Boundary, BC
Regional District Central Kootenay, BC
Smithers, BC
Regional District Cowichan Valley, BC
Regional District of Nanaimo, BC
Toronto, Ontario
Sunshine Coast Regional District, BC
Regional District of Central Okanagan, BC
City of Trail, BC
City of Rossland, BC
Village of Fruitvale, BC
City of Grand Forks, BC
Metro Vancouver, BC
South America
Australia
Eurobodalla Council
Willoughby Council
South Australia State Government
Canberra
The State of Western Australia
The State of Victoria
New Zealand
United Kingdom
Wales
Blaenau Gwent County Borough Council
England
Doncaster Metropolitan Borough Council [website]
Bath and NE Somerset District Council
Chew Magna – a district near Bristol
City of Capannori, Italy
Africa
Asia
Candon City, Ilocos Sur, Philippines
San Isidro, Sueva Edija, Philippines
Pilar, Sorsogon, Philippines
Linamon, Lanao del Norte, Philippines
Sigma, Capiz, Philippines
Kamikatsu, Japan
Kovalam, India
Kanchrapara Municipality, West Bengal, India (developed community based waste management with zero waste goal)
Download Attachments
Hawaii Zero Waste Plan Presentation (2009-02 RAA by County Council Resolutions 356-07 & 624-08)
Hawaii Zero Waste Plan (2009-03 RH & RAA by County Council Resolutions 356-07 & 624-08)