It's simple, everyone can do it!
The Cardboard & Brown Paper Bags bin is for corrugated cardboard and brown kraft paper bags.
The Glass container is for small glass containers
only.  No HI-5 containers. Details »
When in doubt, leave it out.  Don't wish-cycle.
Residents
Residents are allowed to use the Drop-Off recycling bins at County Recycling and Transfer Stations. These recycling bins are closed for New Year's Day, Thanksgiving Day and Christmas Day and are open from 8:00 a.m. to 4:00 p.m. according to the daily schedule of the Recycling & Transfer Station.  Please check our Facilities page to find out the days of the week your Recycling & Transfer Station is open.
| | |
| --- | --- |
| Locations | Recyclables Accepted |
| Hāwī, Hilo, Honoka'a, Honomū, Kealakehe (Kailua-Kona), Kea'au, Keauhou, Ke'ei, Laupāhoehoe, Ocean View, Pāhala, Pāhoa, Pāpa'ikou, Puakō, Waiea, Waimea & Wai'ōhinu Recycling & Transfer Stations | Clean Corrugated Cardboard & Brown Paper Bags, Non-HI-5 Glass Containers |
| Glenwood Recycling & Transfer Station | Clean Non-HI-5 Glass Containers Only |
| Volcano Recycling & Transfer Station | Clean Corrugated Cardboard & Brown Paper Bags Only |
| Kalapana and Pa'auilo Transfer Stations | No Drop-Off Recycling |
Businesses
Businesses are not allowed to use the Drop-Off system. Please contact one of the following local recycling companies to find out what materials they accept for commercial recycling.
PHYSICAL/SOCIAL DISTANCING RULES AT ALL SOLID WASTE DIVISION FACILITIES
These physical distancing rules are for your safety and the safety of the staff and fellow customers.  Please kōkua and thank you for doing your part to keep these facilities safe for all participants, especially our kupuna and other vulnerable residents.
Facility users must keep a six (6) foot or greater distance from each other and facility employees.
If indoors all users must wear a facial covering (cover nose & mouth).
If you are feeling ill or showing symptoms of illness please consider postponing your presence at our facilities or designate someone else to drop off your materials.  Customers under government ordered quarantine or isolation shall abide by those restrictions.
FOLLOW THE RULES
Recycling works only when you follow the rules about what can and cannot be placed in the bins. If the wrong materials are placed inside the bin the result could be the entire contents of the bin may end up in the landfill instead of recycled. Because it costs more to sort out contaminants, that's taxpayer dollars that could be used for something else.  Just because you think it is recyclable doesn't mean we accept it.  We appreciate your support in following the rules.
When in doubt, leave it out!
All items placed in the Drop-Off system must be clean and labels do not have to be removed.  Unacceptable items/contamination increases processing and your taxpayer cost.  Contaminated items will be disposed in the landfill.
Changes to County of Hawai'i Drop-Off Recycling Program – New List of Acceptable Materials (October 16, 2019)
Due to significant decreases in the global market for recyclables the County of Hawai'i no longer accepts some of the types of materials collected in the Drop-Off Recycling Program at the Recycling & Transfer Stations.  However, the County will continue its ongoing efforts to evaluate potential alternatives to remain environmentally and fiscally responsible.
The Drop-Off Recycling Program will collect only these clean materials:
Corrugated cardboard.  No food or other contamination (e.g. pizza boxes)
Brown kraft paper bags (e.g. paper shopping bags)
Glass bottles and jars will continue to be collected in separate glass only bin (clean non-HI-5 containers such as wine bottles, pickle jars, cosmetic jars). No caps, covers or lids.
Small clean metal (aluminum, steel, tin, bi-metal & etc.) cans (e.g. soup, canned meat & vegetables, pet food) and clean metal caps/covers/lids will no longer be allowed in the Drop-Off Recycling Program; they may be recycled in the scrap metal bins at select Recycling & Transfer Stations.
Hawai'i County Gets Picky About Recyclables It Accepts, Citing Global Market Forces (Hawai'i Public Radio article)
DROP-OFF Acceptable (must be clean)
CORRUGATED CARDBOARD AND BROWN KRAFT PAPER BAGS 

ONLY

IN ONE BIN.
corrugated cardboard (please flatten all boxes)

corrugated cardboard is the brown packaging material that consists of a corrugated sheet sandwiched between two flat layers, it is typically used to manufacture boxes.

brown kraft paper bags (e.g. paper shopping bags)
Do not insert recyclables in plastic bags and place them in the recyclables bins.
GLASS BIN
Acceptable
In the separate Glass bin, put all types of empty small glass containers like:

Wine bottles
Liquor bottles
Jams and jelly jars
Baby food bottles
Pickle jars
Mason jars
Makeup or perfume containers

Rinse bottles clean. Labels do not have to be removed.  No covers/caps/lids.

HI-5 redeemable beverage containers are NOT accepted. Beer bottles are redeemable so don't put them in the glass bin.

Not Acceptable:

Plastic bags or paperboard trays/holders
Covers, caps or lids
Food or other residue
Drinking glasses or stemware
Leaded crystal glassware
Window panes, jalousies, louvers
Mirrors
Automobile windshields
CRT TVs or monitors
Fluorescent bulbs, incandescent light bulbs and other lighting fixtures
Aquariums, terrariums
Optical glasses
Vases
Pyrex® or similar glass cookware
When in doubt, leave it out!
Items Not Accepted IN THE DROP-OFF PROGRAM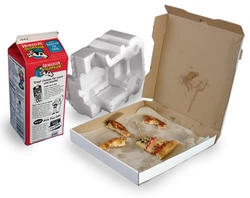 Do NOT place the following in the Drop-Off system:
Contaminants:

Contaminated materials that are dirty – have food residue, oil or other contaminants on them (e.g. pizza boxes)

Plastics (All types and forms, including plastic bags)

Paper:

Boxboard or paperboard (e.g. cereal boxes, beer bottle holders or soda can cartons)
Office paper
Newspaper
Junk mail
Wax or plastic coated containers or wax paper, metallic or metal foil coated papers (i.e. juice foil bags, milk/juice cartons, soup foil-pack cartons or microwaveable foil-lined bags for crisping food).  Cartons are also known as gable-top aseptic containers.
Paper towels, paper plates/cups, napkins, facial tissues
Parchment paper
Photographic paper
Shredded paper

Glass:

Window glass panes, jalousies or louvers, mirrors and windshields. aquarium tanks.
Lighting fixtures (lamps, chandeliers, sconces and etc.).
Light bulbs (incandescent, fluorescent, LED, UV and HPS) are not acceptable.
CRT (cathode ray tube) TVs or monitors

Metal:

Clean metal (aluminum, steel, tin, bi-metal & etc.) cans and metal caps/covers/lids (can be recycled in Transfer Station scrap metal bins)
Empty or filled spray cans (aerosol cleaners, hairspray, poisons, paints and etc.)
Empty or filled compressed gas containers (propane tanks, butane canisters, camp stove gas containers)
Metal squeezable tubes (e.g. toothpaste or adhesives)
Single-use aluminum pie/loaf/roasting pans
Aluminum foil
Do not fill plastic bags with recyclable materials and put the whole bag in the bin. Instead empty the contents of the bag in the bin and dispose of the plastic bag with your regular rubbish.
When in doubt, leave it out!