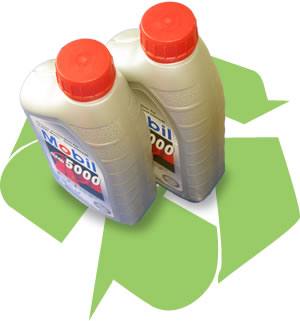 Used motor oil contains toxic substances that can contaminate our land, ground water and ocean. The County of Hawai'i operates a program for the do-it-yourself person who changes their own non-business vehicle's motor oil. Please take it to one of the locations below.
Unfortunately, at this time, empty motor oil containers are not recyclable at a global level. Research is being conducted to study how to remove oil from plastic, but is still in development. To avoid contamination of other recyclable plastic, empty motor oil containers need to be placed in regular disposal.
Another suggestion (thanks to a local resident!) is to let your used oil filter sit and drain the oil from the filter. Up to a quart of oil can be sitting in your oil filter, so maximize your recycling by draining the oil filter of old oil as well!
Commercial, Farm or Business Generators
Commercial, farm or business generators of used motor oil shall contact the following Used Motor Oil Collection Companies:
AKW Environmental  808-430-2339
Hawai'i Petroleum  808-961-2661 (islandwide service)
Unitek Solvent Services  808-935-8180 (islandwide service)

For more options please see the Permitted Used Oil Transporters/Processors list on the State of Hawai'i Department of Health's Hazardous Waste Section's website.  Commercial businesses, farms or agencies are prohibited from using household only drop-off services.
Do-It-Yourself Used Motor Oil Generators
Check with your local auto parts store and ask about used motor oil recycling when purchasing supplies.
Acceptable materials are:
used motor oil
gear oil
shock oil
hydraulic oil
transmission oil
diesel
There is up to a 4 gallon limit from household do-it-yourself generators only.  Do not use bleach, antifreeze or pesticide bottles to transport your used motor oil as this is hazardous and will contaminate the oil.  Containers must have a lid and pourable spout.  Buckets or pails of any size are not acceptable.
Unacceptable materials are:
any material from an automotive or mechanic business, other businesses, agencies, non-profits or from a farm; prohibited by law.  Contact the businesses listed in the Commercial, Farm or Business Generators section above for service.
gasoline
water contaminated fuels or oils
brake fluid
solvents and thinners
paints
antifreeze
anything mixed with oil
Save these household materials and take them to a Household Hazardous Waste Collection event. For more information see Household Hazardous Waste.
Acceptable oils and diesel may be taken to the following locations during business hours. Call locations first to check if accepting oil, some sites may be temporarily closed for servicing.  Do not leave materials unattended at sites as this is considered illegal dumping.
For Program information send email to .
West Hawai'i
O'Reilly Auto Parts (Kailua-Kona) 
74-5586 Palani Rd.
808-326-2211 Please call first to check availability.
Monday to Saturday, 7:00 a.m. to 10:00 p.m.
Sunday, 7:30 a.m. to 9:00 p.m.
Kealakehe High School Building S 
74-5000 Puohulihuli Street
808-895-6969 ext. 266 Please call first to check availability.
School days only, 9:00 a.m. to 12:30 p.m. and 1:30 p.m. to 3:30 p.m.
North Hawai'i
Cartow Kohala 
Kohala, 808-889-1061 Please call first to check availability.
Monday to Friday, 10:00 a.m. to 6:00 p.m.
Saturday, 10:00 a.m. to 2:00 p.m.
Cartow Waimea
64-1055 Māmalahoa Hwy
808-889-1061 ext 2  Please call first to check availability.
Monday through Friday, 9:00 a.m. to 5:00 p.m.
East Hawai'i
Joaquin Auto Workz


43-1494 Hauola Road,

Pa'auilo


808-430-7860

Please call first to check availability.


Monday – Friday, 8:00 a.m. to 4:00 p.m.
South Hawai'i
South Point U-Cart
Prince Kuhio Street, Ocean View
808-929-9666 Please call first to check availability.
Monday – Friday, 7:30 a.m. to 5:00 p.m. (Closed for lunch from noon to 1:00 p.m.)
Saturday, 8:00 a.m. to noon