Abandoned Vehicles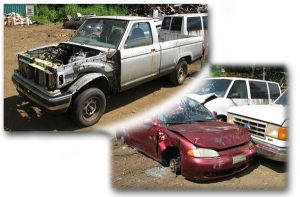 Abandoned automobiles and tires not only take away from the natural beauty of Hawai'i but also may contain toxic substances such as fuels, metals, oils, and coolants that can end up on the ground. When it rains, these substances are then flushed into our waterways. Mercury is particularly dangerous, even in very small quantities, because when it's released to the atmosphere and returns to earth as rainfall it endangers aquatic life and public health.  Automotive tires can also become breeding grounds for mosquitoes which transmit various diseases.  The State of Hawai'i and the County of Hawai'i both passed legislation mandating by law the proper disposal and management of waste tires.
For lead-acid (automotive or solar power) battery recycling see our hazardous waste page in the business/agency/resident section for options.  Some recyclers will accept them for free or pay you scrap value for the battery or give you store credit.  For information on proper disposal of automotive tires see our tire recovery page.
Dispose of Vehicles Properly
Vehicles that are no longer repairable or must be disposed of should be taken to a scrap metal operator permitted to take vehicles. Call for fees and instructions:
Big Island Scrap Metal – Kona 
74-589 Honokōhau St., Kailua-Kona
Please remove all trash and non-metal items.
Monday to Friday: 7:00 a.m. to 4:00 p.m.
Saturday: 7:00 a.m. to 3:00 p.m.
808-854-4530 (Please call first)
Big Island Scrap Metal – Shipman
16-168 Kalara St., Kea'au
Please remove all trash and non-metal items.
Monday to Friday: 7:00 a.m. to 4:00 p.m.
Saturday: 7:00 a.m. to 3:00 p.m.
808-854-4530 (Please call first)
Business Services Hawaii-Shipman
16-630 Kipimana St., Kea'au
Please remove all trash and non-metal items.
Monday to Friday: 8:00 a.m. to 3:00 p.m.
808-966-7489 (Please call first)
It is a crime to dump a vehicle along the road, in a field or anywhere. The owner will be fined and will be required to pay all charges for removing and disposing of the vehicle. It is not free to abandon a vehicle.
Before disposing of your vehicle remember to remove the license plates and turn them in along with your certificate of title and completed Application for "Junk" Status Vehicle Form to the Motor Vehicle Registration Division of the County Finance Department (961-8351 Hilo or 323-4818 Kona or 965-2721 Pāhoa). If you have any questions please contact the County Abandoned Vehicle Program at 961-8552.
Automobile Parts
County of Hawai'i Recycling Facilities (only accepting clean – drained of all fluids and all hazardous materials removed – automotive parts, no vehicles or engines, no commercial businesses)
Kealakehe Recycling and Transfer Station
Hilo Recycling and Transfer Station
County Facilities are open daily from 7:00 am to 5:00 pm.
Closed on New Year's Day, Thanksgiving Day and Christmas Day..
There is no charge for scrap metal recycling at these County facilities.
For more information call the County of Hawai'i at 961-8552.
Park Smart – Don't Get Tagged and Towed
Do NOT store your vehicle parked along the road. If your vehicle is not going to be used for a long period of time, move it fully onto your property. Vehicles parked along the roadside for extended periods of time are subject to being determined as "Abandoned." (Hawai'i Revised Statutes (HRS), Ch. 290; Hawai'i County Code, Ch. 24) If the vehicle tagged by police, it may be towed within 24 – 72 hours to the County of Hawai'i storage yard and the vehicle's owner will be required to pay all charges. Removing the Abandoned Vehicle notice will not prevent your vehicle from being towed. Only moving the vehicle off the road, onto your property, will prevent it from being towed away.
Reporting an Abandoned Vehicle
Your report will assist us in quickly locating suspected abandoned vehicles, initiating the required investigation, and removing these vehicles from public streets, municipal parking lots, parks and beaches.
If you would like to report a suspected abandoned vehicle located on a public road or public property, please call the Police non-emergency line at (808) 935-3311, to file a report. Have the following information ready:
Specific location of the vehicle, for example, in front of what address, the nearest cross street, distance from nearest landmark, etc.
License plate number, if available
Make of the vehicle
Type and color of the vehicle
How long the vehicle has been at this location
Abandoned Vehicles on Private Property
Only vehicles abandoned on public property and tagged by the Hawai'i County Police Department may be removed by the County of Hawai'i. If a vehicle is abandoned on private property it is the responsibility of the property owner to remove such vehicles (HRS, Ch. 290-11).
Claiming an Abandoned Vehicle
Abandoned vehicles that have been taken into custody by the County of Hawai'i may be claimed by the legal or registered owner. Please call our office at 961-8552 to make an appointment to claim your vehicle.
To claim the vehicle the owner must:
Present a valid driver's license or State-certified pictured identification at time of payment
Present proof of ownership
Pay all towing charges and other related charges in cash or money order prior to the release of the vehicle
Remove the vehicle from the storage facility as arranged
Vehicle Disposal Assistance Program:
The County of Hawaiʻi Department of Environmental Management Derelict/Abandoned Vehicle Section is initiating a year-round program in November 2019 that is designed to assist County residents with the disposal of unwanted vehicles. This Vehicle Disposal Assistance Program is to help registered vehicle owners dispose of unwanted vehicles legally and properly, to reduce the number of derelict and abandoned vehicles left on public roadways.
A maximum of two junk vehicles per registered owner, per calendar year, may be disposed of at no charge. The County will pay the disposal fee directly to the County's vehicle disposal contractor. However, the registered owner is responsible for having their vehicle transported from its current location to the County's contracted vehicle disposal facility. The registered owner is also responsible for all costs associated in getting their vehicle transported from its current location to the County's contracted vehicle disposal facility. Applications for this program will be accepted starting November 1, 2019. .
If you have any questions, please contact the Derelict/Abandoned Vehicle Section at (808) 961‐8552 or .
Vehicle_Disposal_Assistance_Program_Instructions_and_Application_2019_11_01
Derelict/Abandoned Vehicle Removal Procedures:
1. To report an abandoned vehicle, call Police Dispatch at 935-3311.
The County Abandoned Vehicle Coordinator cannot make arrangements for removal of the vehicle until a police report is received.
2.  A Police Officer will locate the vehicle and attach a notice advising the owner to remove the vehicle within 24 hours.
 If the vehicle has been removed, no report is initiated.
 If the vehicle is still at the scene 24 hours later, a police report is initiated.
3. After the police report is approved by the supervising officer it is then sent to the Traffic Services Section (TSS) of the Police Department. TSS will then forward the police report to the Abandoned Vehicle Section.
To check the status of an abandoned vehicle that has already been reported please call TSS at 961-2226 or 961-2227.
4. Once the police report is received, the Abandoned Vehicle Coordinator makes arrangements with the contracted towing service contractor to remove the vehicle within 72 hours.
If the vehicle is derelict, it is hauled to the County's contracted vehicle disposal facility.
If not derelict, the vehicle is hauled to the impound site and the Abandoned Vehicle Section attempts to notify the registered owner by certified mail.  Registered owner is then charged for towing and storage of the vehicle.
5. If the vehicle is missing from the site when the Abandoned Vehicle towing contractor arrives, the case is closed.