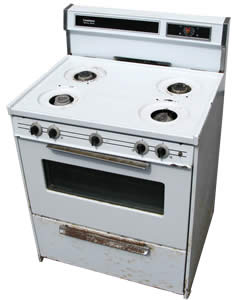 White goods are major household appliances such as washing machines, dryers, water heaters, stoves/ovens, refrigerators and freezers. Major home appliances are made up of approximately 75 percent steel. The remaining materials include other metals such as aluminum, zinc and copper, as well as recyclable plastics and CFC refrigerants. The US EPA reports that the use of scrap instead of virgin materials to make new steel results in a 97 percent reduction in mining wastes, 90 percent savings in virgin materials use, 86 percent reduction in air pollution, 76 percent reduction in water pollution, 74 percent savings in energy, and 40 percent reduction in water use.
Donate
Before recycling white goods, if they are in good working condition, consider donating them to a reuse center.  Please refer to the Reuse section of this website for further details.
Hawai'i Energy Bounty Program for Old Working Refrigerators and Freezers
We Pick Up, We Recycle, You Get Paid!  The Refrigerator Trade-Up and "Rid-A-Fridge" Programs are residential incentives offered to replace or dispose of older less energy efficient appliances, while funding lasts. Rebates are available on a first-come, first-served basis to electric utility account holders, with a limit of one refrigerator and one freezer per household.  Hawai'i Energy also provides free curbside pick-up of the unit that will be disposed and proper recycling.  The appliances must be full size (at least 14 cubic feet) and currently in use to qualify. Call them (1-877-231-8222) for more information. Some restrictions may apply.
Recycle
Appliances or white goods can be recycled at the scrap metal area at the following locations:
Big Island Scrap Metal – Shipman
16-168 Kalara St., Kea'au
No electronics or microwaves.  Please remove all trash and non-metal items.
Monday to Friday: 7:00 a.m. to 4:00 p.m.
Saturday: 7:00 a.m. to 3:00 p.m.
(808) 854-4530 (Please call first)
Big Island Scrap Metal – Kona
74-589 Honokōhau St., Kailua-Kona
No electronics or microwaves.  Please remove all trash and non-metal items.
Monday to Friday: 7:00 a.m. to 4:00 p.m.
Saturday: 7:00 a.m. to 3:00 p.m.
(808) 854-4530 (Please call first)
For commercial/industrial refrigerators/freezers/HVACs, the refrigerant must be removed prior to disposal.  Contact a refrigeration service company for refrigerant removal service and documentation.  Documentation of refrigerant removal must be presented to the scrap metal personnel before they will accept the item(s).
County of Hawai'i Appliances/White Goods Recycling Drop-off Facilities
Accepting self-hauled household generated material only.  Clean/empty/drained household appliances only – dishwashers, stoves/ovens, refrigerators/freezers, small air conditioner units, dehumidifiers, washing machines, clothes dryers & water heaters.  Microwaves and electronics not accepted.  Not accepting commercial (including commercially hauled), government agency or non-profit agency generated material – prohibited by law.
Only one item per customer/vehicle per day.  Vehicles allowed at the Transfer Station are limited to sedans, SUVs, pickup trucks or mini-vans.  Trailers and dump bed trucks are prohibited.  Customers will need to check in with facility attendant who will log item dropped off.
Appliance Collection Sites @ Recycling & Transfer Stations
Hours
Days
Hāwī
Hilo
Honoka'a
Kea'au
Kealakehe (Kailua-Kona)
Pāhoa
Waimea
8:00 a.m. to 4:00 p.m.
Monday through Saturday
(This service is not available on Sundays)
Ke'ei
Laupāhoehoe
Ocean View
Pāhala
Puakō
8:00 a.m. to 4:00 p.m.
Tuesdays and Fridays
(This service is not available on Sundays)
Volcano
Wai'ōhinu
8:00 a.m. to 4:00 p.m.
Mondays, Thursdays & Saturdays
Closed on New Year's Day, Memorial Day, Labor Day, Thanksgiving Day and Christmas Day.
There is no charge for household appliance recycling at these County facilities.
Refrigerators, freezers, air conditioning units and dehumidifiers containing refrigerant must be placed in special designated area, look for signage.
Physical/Social Distancing Rules at All Solid Waste Division Facilities
These physical distancing rules are for your safety and the safety of the staff and fellow customers.  Please kōkua and thank you for doing your part to keep these facilities safe for all participants, especially our kupuna and other vulnerable residents.
Facility users must keep a six (6) foot or greater distance from each other and facility employees.
If indoors all users must wear a facial covering (cover nose & mouth).
If you are feeling ill or showing symptoms of illness please consider postponing your presence at our facilities or designate someone else to drop off your materials.  Customers under government ordered quarantine or isolation shall abide by those restrictions.
MICROWAVES
Microwave ovens are not considered electronic waste or an appliance for recycling purposes in the County of Hawai'i.  They are considered regular rubbish.